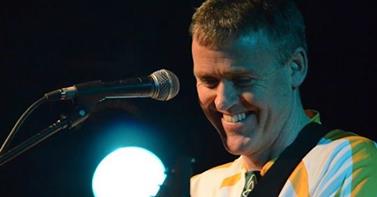 Eunan McIntyre: St. Patrick's Day Ceili Concert
Sat, Mar 21, 2015 at 3pm
Family-Friendly Concert
Wheelchair accessible
On Saturday, March 21, 2015 Marian University Theatre presents a family-friendly afternoon with award-winning Irish singer/songwriter Eunan McIntyre, a perfect way to enjoy the St. Patrick's Day holiday. Direct from County Donegal, Ireland, Eunan is influenced by the beautiful natural surroundings in which he grew up. Best known for his songwriting and warm personality, while on stage, Eunan can reach into the heart of the audience with his Irish humor and his music.
This concert is for all ages and for the whole family! It is the perfect way to celebrate St. Patrick's Day through music. "Ceili" is a Gaelic word that translates to a social gathering involving music and dance. Audiences will enjoy traditional Irish ballads as well as some of the award-winning music written by Eunan McIntyre.
Having toured the United States, Canada, Denmark, Luxembourg, Spain, and Switzerland, Eunan also has a local history, playing the Greening of the Canal in Indianapolis every year since 2011.
Eunan has won several song competitions in Ireland and in 2000 he received the Pete St John ASCI award for his song "Josie" which also won the Sean McCarthy All-Ireland traditional Ballad song competition. He won this competition again in 2002, and has on several occasions received first prize in the Clonmany song competition. In 2011 he was a prize winner again with his song "Some day We'll Fly Away". To date Eunan has released five albums and a new DVD based on his own material. His most recent album, "The Place That I Call Home" was released this in 2014.
GROUP TICKETS AVAILABLE FOR GROUPS OF 10 OR MORE. Contact Ben @ 955-6588